Revealed: 2020's shortlists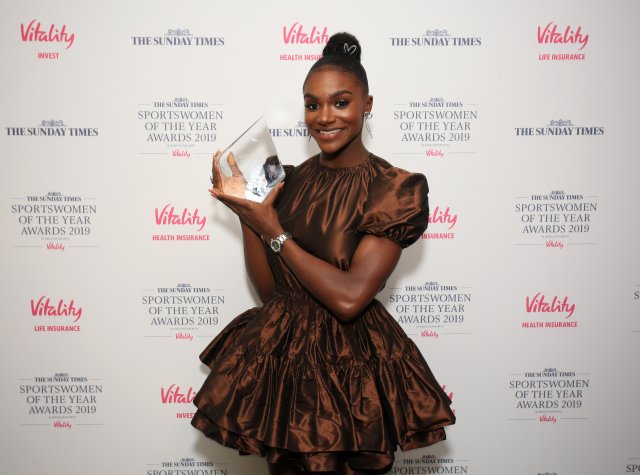 The shortlist of finalists has been confirmed for The Sunday Times Sportswomen of the Year Awards 2020 in association with Vitality.
Now in their 33rd year, the awards have led the way in recognising and celebrating the outstanding contribution to sport made by elite performers, coaches, administrators, community volunteers and inspirational women.
And this is the public's opportunity to vote for their grassroots heroes over the past 10 months.
And this is the public's opportunity to vote for their grassroots heroes over the past 10 months.
The top-five shortlist for the Sunday Times Sportswoman of the Year Award includes the following outstanding women: Hollie Doyle (Jockey), Lizzie Deignan (Cyclist), Jessica Learmonth (Triathlete), Fallon Sherrock (Darts), Georgia Taylor-Brown (Triathlete).
Previous winners of the main award include Elise Christie, Sally Gunnell, Tanni Grey-Thompson, Denise Lewis, Dame Kelly Holmes, Zara Tindall, Victoria Pendleton, Christine Ohuruogu and Laura Trott. Dina Asher-Smith was crowned the 2018 and 2019 Sportswoman of the Year.
The winners will be revealed at an online ceremony on the evening of Wednesday November 25th.
THE SUNDAY TIMES SPORTSWOMAN OF THE YEAR

The ultimate accolade for your favourite Sportswoman of 2020
Hollie Doyle (Horse racing)

Lizzie Deignan (Cycling)

Jessica Learmonth (Triathlon)

Fallon Sherrock (Darts)

Georgia Taylor-Brown (Triathlon)
DISABILITY SPORTSWOMAN OF THE YEAR
The outstanding performer in a disability sport
Hannah Cockroft (Athletics)

Tully Kearney (Swimming)

Maria Lyle (Athletics)

Nathalie McGloin (Motor Racing)

Dame Sarah Storey (Cycling)
VITALITY GRASSROOTS SPORTSWOMAN OF THE YEAR AWARD

For individuals who have actively engaged with different groups of people within their community through sport
Zainab Alema, Rugby

Zainab Alema is a rugby player for Barnes RFC and a trailblazer, working to encourage more black and Muslim women to follow her lead and take up rugby. She started playing the sport as a teenager and joined Barnes in 2017.

Alema, who is a neonatal nurse for the NHS and mother of three, has been integral in Barnes' response to the Black Lives Matter movement and recently started the Muslimah Rugby online community to try to connect Muslim women who play rugby, so that no one has to feel as isolated as she says she felt when she first started playing. 

Last year, Alema founded Studs in the Mud, a project supporting grassroots rugby. Her fundraising efforts ensured new boots could be shipped over for dozens of players in Ghana and, more recently, Morocco, where she joined in a training session with a team of Muslim women and supplied 25 new pairs of boots.

Elaine Brown, Volleyball

Elaine Brown is taking volleyball to new heights across West Yorkshire. The coach, who lives in Leeds, has taught students from the age of eight to 18 across all schools in the GORSE Academies Trust, all six Leeds junior teams, and on the Yorkshire volleyball programme. She was appointed the director of youth volleyball development across the GORSE Academies Trust last year and, in October, won national volleyball coach of the year. 

Brown has launched after-school volleyball in four primary schools, with each academy in the trust now offering the sport as part of PE and running weekly extra-curricular clubs with up to 60 students at a session. The under-15s girls' team has reached the finals of the national championships. She also organised a Leeds Gorse Volleyball Club LGBT+ Open Play Day in conjunction with the Leeds LGBT+ Fringe Festival and is passionate about diversifying sport. 

Katee Hui, Football

Katee Hui started Hackney Laces in 2011 after realising there were not enough opportunities for girls and women to play football in her local area. Hui, who is a qualified football coach working towards her UEFA B licence, began the club in 2011 with just a few girls, offering free training and fitness sessions. There are now more than 350 women and girls of all ages attending sessions across the capital between Hackney Laces and its two sister clubs, Limehouse Laces and South London Laces. 

Hui also started Extra Time sessions off the pitch which offering a range of extra-curricular mentoring for the women and girls who play football. Sessions have included helping teenagers with their CVs, talks from inspirational speakers, and first aid for knife crime victims. Hui, whose work for Hackney Laces is entirely voluntary, won a Points of Light award from then-prime minister David Cameron in 2015. During lockdown, she organised online sessions and kit deliveries to keep the Laces community active.

Kate Nicholls, Rugby

Kate Nicholls is the head coach of Witney Wolves, a special educational needs (SEN) rugby team. The team offers touch and tag rugby to SEN players of a range of ages. One mother, whose son has been playing with the Wolves for several years, said: "He is severely disabled but plays rugby with all his heart and soul… He wakes up with a smile on his face because he will be playing rugby with his friends."

Conscious that lockdown would be a particularly hard time for her players, Nicholls ran virtual sessions in her garden with her three sons, who all also play rugby. Last year, she was selected to coach a session in front of England head coach Eddie Jones, as a recognition of her volunteering efforts. 
YOUNG INSPIRATION AWARD
Nominees must have been 21 or younger on January 1, 2020
Layla Banaras (Football)
Layla Banaras is a 14-year-old footballer for Birmingham City FC under-16s and has played for the club since the age of eight. As one of very few young Muslim women playing football at her level, Banaras wants to inspire other young Muslim girls to take up the sport and hopes to one day become the first Muslim woman to play for England.
Banaras was featured on the South Asian Heritage social media page, telling the story of how she fell in love with football. After training during Ramadan, Banaras realised there was no guidance in place for players who were playing while fasting. She is working to develop a healthy eating programme for Muslim footballers who want to train through Ramadan.
Lilly Holmes (Hockey)
Lilly Holmes, 12, should have been at trials for England Hockey's Performance Centre this summer. Instead, she set up a hockey-inspired obstacle course in her garden and filmed herself training to inspire other young people to keep playing sport during lockdown.
Holmes watched YouTube videos to learn new tricks, such as how to aerial the ball and how to drag flick, then filmed herself training and posted them on Twitter. She filmed for 121 days and her videos were shared by England Hockey.
Emily Linscott (Motor Racing)
During lockdown, 17-year-old racing driver Emily Linscott got the opportunity to travel to America to compete. Despite the risks posed by the pandemic, the young driver took eight top-10 places in competitions, including fourth place at Autobahn, Illinois and setting a new lap record at Nola Motorsports Park in Louisiana. She also holds the lap record at NCM Motorsport Park in Kentucky from last year. She is mentored by British Indycar driver Pippa Mann.
Roya Mehdizadeh-Valoujerdy (Football)
Roya Mehdizadeh-Valoujerdy is a football coach and chair of the FA National Youth Council. On the council, she is the voice of young people and has contributed to the discussion around inclusion and LGBT issues in football.
Mehdizadeh-Valoujerdy, 22, has worked on the FA and Youth Sport Trust national camps and academies, the English Colleges FA National Student Leadership Committee, and been a Kick It Out Game Changer. She has also been a Youth Sport Trust team leader, a Football Development Officer at Horsforth St Margaret's school, and a senior member of the Derbyshire County FA Youth Council. She recently began working full-time for Football Beyond Borders, an education charity which uses the power of football to support disadvantaged young people in the UK.
INFLUENCER AWARD
Celebrating the influencers who have used their voice to inspire the nation during the lockdown period
Shaunagh Brown (Rugby)
Shaunagh Brown, an England and Harlequins rugby player, has been a leading voice in the sport's response to the Black Lives Matter movement and is a role model to ethnic minority women and girls who want to play rugby. Brown, who was one of the first women in history to receive a full-time contract to play international rugby, has been consulted about the game's efforts to combat racism in the sport and joined a panel this summer with former England player Maggie Alphonsi and Sevens player Deborah Fleming to discuss race within rugby. During the month of October, she is using her Instagram page to post an historical fact a day about black history.
Imogen Callaway (Cycling)
Imogen Callaway is a Ride Leader and Area Coordinator for British Cycling's recreational women's cycling programme, HSBC UK Breeze, in the Devon and Cornwall area. Callaway has taken more than 230 women on bike rides since last year, helping women from the most beginner level to those looking to do longer rides but finding the male-dominated cycling world a bit intimidating. During the lockdown period, Callaway posted videos of her lone cycling adventures on YouTube, encouraging others to take up cycling or get out on their bikes. As soon as restrictions were lifted, she began running sessions in groups of six which have been constantly oversubscribed.
Alice Liveing (Fitness)
Alice Liveing spent lockdown running regular livestream Instagram workouts for her 680,000 followers in an effort to keep people active. Liveing, who is a qualified personal trainer, is also an ambassador for Women's Aid and used her platform to speak about the rise in cases of domestic violence during lockdown. As a survivor of domestic violence herself, she raised awareness of the signs of an abusive relationship and shared helpline details.
Ebony Rainford-Brent (Cricket)
Ebony Rainford-Brent, a cricket commentator and former player, launched the African-Caribbean Engagement (ACE) programme with Surrey Cricket Club this year, aiming to engage young black people in the local area with cricket. The programme has already had 25 graduates. Rainford-Brent, who was the first black woman to play for England and the first female cricketer to score three consecutive ducks in women's T20 history, is a broadcaster for the BBC's Test Match Special and for Sky Sports.
Visit www.sportswomenoftheyear.co.uk to vote for your favourite Grassroots heroes.
Voting closes at 12pm on Monday November 16th, 2020.